---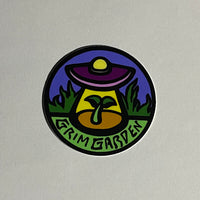 Grim Garden OG Logo Sticker - "Gloomsday"
2" Diameter - Weatherproof Vinyl - Die Cut
Miniature stickers featuring the OG Grim Garden LLC Logo, a crisp and punchy design that will catch the eye from across the room and turn heads for the duration of its time spent on whatever you choose to slap it on. How long's that? Well, seeing as this is a Weatherproof, Vinyl Die-Cut sticker, you can expect this little guy to survive a whole lot of wear-and-tear. On your car? No problem. On your wallet? Go right ahead. This design's what started it all!